Chosen
Friday, January 26, 2018 at 5:00 PM
Event Information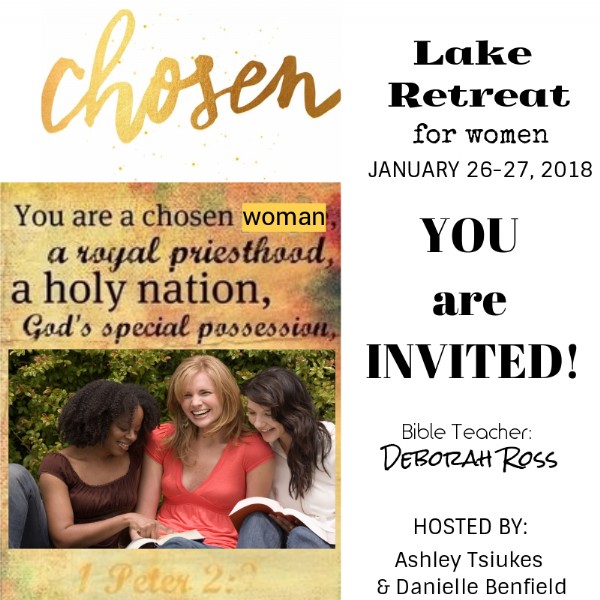 YOU ARE INVITED!
Danielle Benfield and Ashley Tsiukes are hosting Lake Retreat!
This is a sleepover, pajama party for women!
Come spend 24 hours with us and be refreshed by the Word of God.
Bible Teacher: Deborah Ross
Limited Space.
Dinner, snacks, breakfast and lunch will be served.
Hot chocolate, tea, coffee will be set up also.
Requesting donations of $25 per person for this event.
Everyone will need to bring a sleeping bag or blankets and a pillow. There are only a few beds available on a first come first served basis.
Bring Your Bible!
Please contact Danielle Benfield for more information and to sign up.
danielle@daniellebenfield.com
704-890-0191
At the gate you will need to show ID and say Lot P5 201 Tsiukes residence.
Once you go through neighborhood you will come to 2nd gate and the code you punch in is 0690.
We will mark the way with balloons or something.
Event Location
Ashley's Lake House • Lot P5, 201 Twin Harbor Drive • Mt. Gilead, NC • US
Contact Information
Contact: Danielle Benfield
Phone: 704-890-0191
E-mail: